Asphalt Remover - ObliTARate Auto Finesse
|
Skoda-Parts.com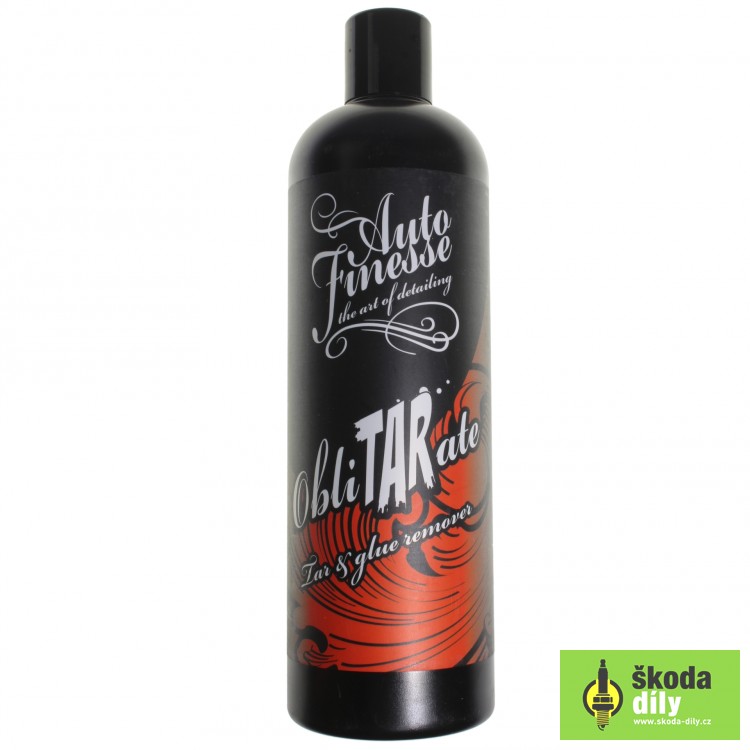 ObliTARate is a powerful remover of tar, tar and asphalt from paint and car windows. These contaminants are highly sticky and, if left to dry on your paint, can cause etching, stains and irreversible damage.
If you see tar and glue residues on your car, this is the best time to use ObliTARate. Auto Finesse ObliTARate is a powerful, effective fast-erosive product that dissolves impurities without any further contact. It removes even the most resistant tars, adhesive residues or insects without any damage to the basic surface layer.

Long-term dissatisfaction of the general public with various products has forced Auto Finesse to develop the product with the best performance. After months of developing Auto Finesse, he finally came up with the perfect formula.

Like all Auto Finesse car care products, ObliTARate is formulated to meet the needs of professional detailers. But it can be used with great success even by an absolute beginner. ObliTARate is ideal for removing asphalt, tar, rubber residues, adhesives, insects, paint protectors, etc. Its strong solvents begin to dissolve dirt on first contact without any mechanical scrubbing. You practically eliminate the need for more applications or even damage due to the use of a rough 'sponge'.

Procedure for use:
1) Wash and dry the car thoroughly
2) Apply Oblitarate to asphalt, pitch or glue with a soft cloth
3) Let it work for about a minute (you will see how the asphalt dissolves itself, it will start to flow down arbitrarily from the vertical surfaces)
4) Apply a small amount of product to the cloth
5) Wipe gently
6) Repeat if necessary

Note: Only apply adequate pressure to the cloth you are wiping with adhesive, tar or asphalt residues. It is better to repeat the procedure twice than to scratch the varnish with undissolved residues of contamination. After removing the asphalt and adhesives, the cleaned area must be treated again.
Note:: Volume 500ml.
What cars does this part fit? [+]
Manufacturer facts:
Auto Finesse
Established in 1999, Auto Finesse started journey into car care as a man, van, and a passion for clean, shiny cars. Channelling 20 years of combined hands on experience into everything detailing today we manage each step of the process in house.
×

Back to contents ⇑